SODA 1997 - 2002
---
Twentieth Century Screen (Neal White) was one of three works shown at SODA, at The Lux Gallery, Hoxton Square. It was curated by Gregor Muir and reviewed in Frieze, 1998.


Co-Founded by Neal White, Lucy Kimbell, Fiddian Warman. 1997.

We met on the MA in Digital Arts at Middlesex University in 1996 and our original aim was to:

"

steer the development and funding of our own areas of practice. Although this practice covers a broad range of individual interests, the group is held together by common views on technology and art

."

After a year, we were joined by Julian Saunderson and a year after that, Ed Burton, both formerly our lecturers at Middlesex.

Soda created many artworks, and exhibited at Moderna Museet, Stockholm, City Racing Gallery and Cubitt Gallery in its earliest configuration. In this period Soda actively funded and supported the work of its members.
In 2000, the group came to widespread noteriety, winning numerous awards (BAFTA etc), for Sodaplay
. Sodaplay was created by our soon to be R&D Director, Ed Burton to entertain himself whilst he was learning Java. Sodaplay was picked up virally two years after its creation when we redesigned the Soda website. It expanded rapidly. The approach to user driven content, community, design and interactivity have featured highly in its success, and can even be considered as a precursor to the web 2.0 concept of user driven content ( we tred to explain this to many clients - they didnt see the point!). Sodaplay was included in many exhibitions and publications at this time (see below for some of these).
Apart from being an addictive and brilliant experimental project, sodaplay steered much new activity at Soda, increasing our scope for more commercial developments in play and learning, and into sectors such as mobile.
Alongside this, the develoment of software architecture enabled Soda to rapidly develop digital screen based artworks for commercial projects and commissions.
In order to deal with all this increased activity, we expanded the group by bringing in additional trans -disciplinary artist/programmers and designers, to bring the group up to nine members by 2001.
In October 2002, I resigned from Soda and my position as Creative Director. My interests took me on another path of enquiry.
Summary of Sodaplay related arts activities and exhibitions during my last year; 2001 - 2002
Art Bit, Institute of Contemporary Culture, Tokyo

DigiFest, Toronto, Canada

Austin Museum of Digital Arts, Texas, USA.

MOCA, FCMM Festival, Montreal, Canada.

Great Expectations - British Council touring Exhibition. New York and touring USA.

Sonar Music Festival, Barcelona, Spain.

BAFTA Award - Sodaplay for Interactive Arts.
SODA
LUX Gallery, London
1998
---
Corrupted Nature. A robotic reworking of play by the Marquis de Sade. Fiddian Warman and Julian Sounderson. The exhibition also included Twentieth Century Screen, pictured at the top of the page (Neal White / Erik Kearney)
SODA were invited by Gregor Muir to exhibit new works in the groups first and only solo exhibition. The exhibition included three works that explore the potential of new technologies at the turn of the millenium. All works were created in collaboration with engineers and coders.
Funded by Arts Council England
Chorus, a cacophenous work created from musical Birthday cards, by Lucy Kimbell / Hugh Malinder.
2437 - Avatar.
Moderna Museet. Stockholm and touring Norway, Sweden and Finland.
1998
---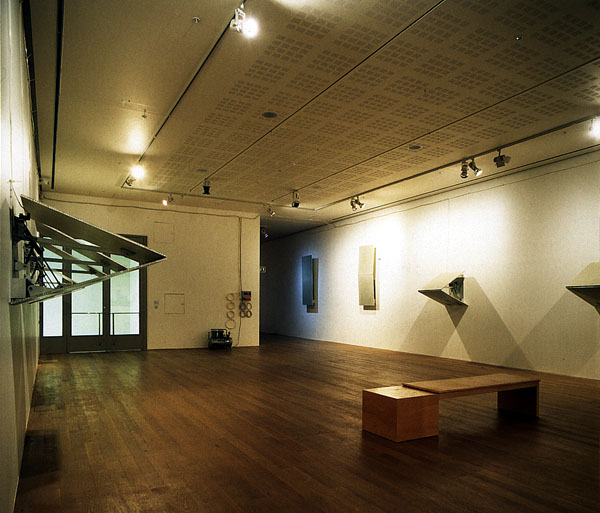 2437 - Avatar, Moderna Museet (Museum of Modern Art) Stockholm and touring Norway, Sweden and Finland.
The Avatar exhibition is inspired by the electronic communication systems of today. As the way in which they affect society. The work in the exhibition addresses issues of identity and social cooperation in an increasingly media-populated world.
The notion of agency was explored by Soda, as an artist group, Minimal wall based panels were distributed through the gallery and make a transformation from a flat vertical position to an obtrusive angular occupation of the space, driven by a program that authors and choreographs the physical space of the gallery. The space we occupy intrinsically linked to the code we wrote.
The artists included are:
Åsa Andersson, Peter Hagdahl, Carl Michael von Hausswolff and Cecilia Parsberg, Mariko Mori, and the group Soda: Lucy Kimbell, Fiddian Warman, Neal White and Julian Saunderson. Avatar is produced by Riksutställningar in co-operation with Stockholm the Cultural Capital of Europe ´98 with support from the British Council.
SODA - Networking
Spacex, Exeter

1997
---



'Networking' was a touring exhibition of fax and mail art curated by Dr. Andrew Patrizio. Additional works were commissioned by Alex Farqharson from members of Soda to be shown at Spacex to reflect changes implied by electronic networked communication.


SODA - Memo, Multiple Choice
Cubitt Gallery, London

1997
---



Memo was developed by all members of the inital group at Soda, and was the first time that we had worked together in this way.

Memo was installed onto the administration machine of the gallery (image below), as a simple AI program with a visual output on screen. Light sensors attached to the screen triggered the small panels that were attached at various points to the glass overlooking the gallery. When triggered, the motors powered thin chains that would rattle gently against the windows, drawing the attention of the viewer away from the gallery and into the office space itself.

We were interested in exxploring the agency of the artist, and the way in which work was displayed in galleries during the emergence of net art and other digital forms. Our interest was united by our separate enquiries into the physical reality of the software that creates the infrastructure to contemporary society, and the power relations of adminsitrator to art itself.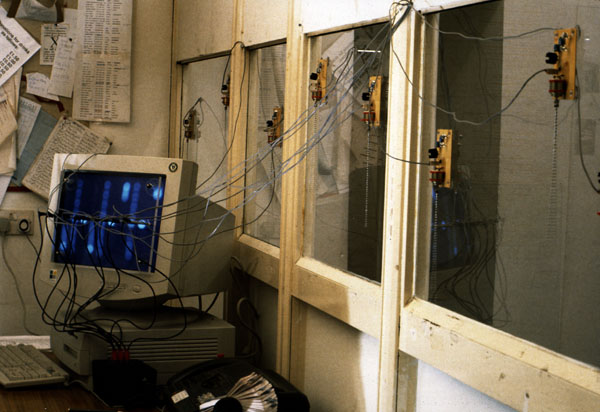 ---

SODA ltd (soda.co.uk) was relaunched in 2002 and is now led by Fiddian Warman.